About our Dental Practice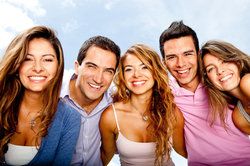 Our team of professionals has years of expertise in restorative and cosmetic therapies, and can provide you with exceptional, customized care. Our patient-focused dental practice is conveniently located in Allen, TX, at a comfortable, luxurious office right off the freeway. Drs. David Bishop, Robert Kim, Kris Koelker, and our team are committed to helping you repair dental decay, enhance the appearance of your smile, and maintain your teeth with proper oral hygiene. Contact our office today to learn more about our practice or schedule an appointment with one of our dentists.
Our Dentists
Dr. Bishop founded our practice over three decades ago right here in Allen, and expanded his business as the city grew. In addition to building our thriving dental practice, Dr. Bishop literally constructed the timber frame for our castle-like office using his woodworking skills. He has enjoyed being an integral part of our local community and prides himself on his service.
Over 20 years ago, Dr. Bishop was honored to have Dr. Kim join our roster in order to better serve our patients and expand our services. Last year, we welcomed a third dentist to our team in Dr. Koelker. A recent graduate of Dr. Bishop and Dr. Kim's alma mater, the University of Texas Health Science Center of San Antonio, Dr. Koelker contributes his expertise in dental implants and sedation dentistry to our practice. Our dentists combine their knowledge and experience to provide superior care for every one of our patients.
Our Services
If your teeth become damaged by decay, infection, or trauma, our dentists can help repair them with fillings and dental crowns. For patients who are missing one or more teeth, we also offer some of the latest techniques in dental implants, including Nobel Biocare®'s All-on-4® to provide attractive, durable same-day teeth. Our dentists can also help you address cosmetic concerns to feel more confident about your smile. We provide both chairside and take-home teeth whitening to brighten your smile and porcelain veneers to instantly beautify your teeth. Our team can tell you more about our offerings at your initial consultation.
Customized Care
Our staff enjoys getting to know each patient so that we can provide customized care. Our dentists will work closely with you to ensure your treatment suits your needs and preferences. In addition to providing individualized procedures like smile makeovers, we provide multiple options for treatments so you can choose which will work for you. For example, we offer four strengths of take-home teeth whitening gel and three types of dentures. If you need a dental crown, bridge, denture, or porcelain veneers, our dentists will work closely with you and our trusted lab to ensure your restoration is the size and shape you'd like.
Your Needs are Our Priority
We understand that dental treatment can be difficult for patients, so we work to make improving your smile as easy as possible. If you suffer from dental anxiety or need more comprehensive procedures, we also offer sedation dentistry to help you remain calm and comfortable during treatment. Despite using some of the latest technologies and providing a luxurious office environment, we offer competitive pricing and provide CareCredit financing to make your treatment affordable.
Learn More About Our Practice
Our experienced dental staff works to improve the look and function of your teeth while keeping you comfortable and happy. To learn more about our practice or schedule an appointment with one of our dentists, contact our office today.
Virtual Office Tour